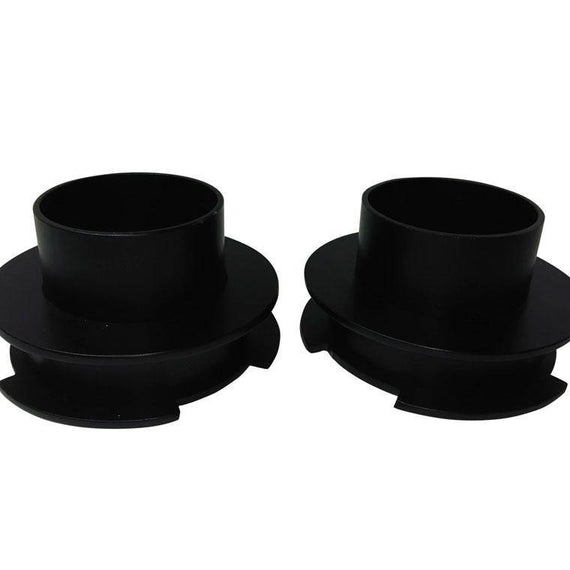 Front Leveling Lift Coil Spring Spacers for Chevrolet GMC C-Series 1500 2500 3500
Chevrolet GMC C-Series 1500 2500 3500 Front Leveling Lift Coil Spring Spacers
The Chevrolet GMC C-Series 1500 2500 3500 front lift spring spacers are designed to mount directly to your truck and seat your spring fittingly without alterations. Made from US carbon steel and varnished with a rust preventative coating, these spacers not only look badass but will outperform rival products and outlast rigorous terrain and damaging outdoor elements. These spacers are developed and rigorously tested to ensure performance, durability, and proper road safety.
Sold as a pair, these front lift spacers are available in sizes 2", 2.5" and 3." Installation time is between 2-3 hours with reasonable mechanical skill. For your convenience, instructions are included for proper installation procedures. Products from our Road Fury line are guaranteed to be of the highest quality and will deliver long-term service.
Road Fury high-performance suspension lifts by Road Fury are made in America. All Road Fury bolt-on products work with stock suspension and are easy to install.
FITMENT: 1988 - 1998 Chevrolet GMC C1500, C2500, C3500 2WD
LIFT: 2", 2.5" and 3"
DESIGN: Heavy-duty US carbon steel for durability and a better fit. The anodized coating is corrosion resistant and gives a more impressive look.
QUALITY: Prime mill certified and heat-treated, our high-quality steel material is tougher than Chinese aluminum, cast, polyurethane, imitation alloy, and other steel products.
KIT CONTENTS: 2x precision laser cut carbon steel spring spacers and installation instructions
INSTALLATION: 2-3 hours
TECHNICAL NOTES: Spring Compressor may be needed. An Alignment is recommended to ensure your ride quality. Works with stock suspension.
MANUFACTURED: Made in America
WARRANTY: Lifetime Replacement Warranty
California Residents: Prop 65 warning